Premier Home Theater Systems Near Livonia MI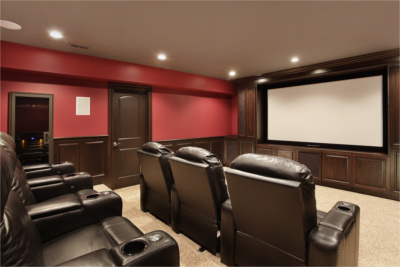 Telesis Electronics is an expert in communications systems, specializing with the concept of total home and commercial electronics. What this means for you as a Telesis customer, is that you are in the hands of a company that not only understands the intricacies of today's commercial and consumer electronics industries, but also the environments within which this technology is being placed - your home or office. We have acquired this knowledge through many years of one-on-one interaction with home buyers, consultants and architects, builders and building trade workers, and equipment manufacturers.
In 1990, Westside Sound and Communications began to focus on the growing home electronics market that had migrated inland from the coasts and was beginning to create interest among developers and enthusiasts. Complete home theater and bedroom demo areas were added to the office to allow prospective home buyers the opportunity to experience audio and video integration in a finished environment before they invested in it. This sales tool soon proved to be a "must-have" for all dealers as consumers were instantly aware of the possibilities available to them upon use of the system.
We provide the glue to make electronics systems "stick" together in an intuitive fashion to create your unique home theater.
---
Home Movie Theater Contractors Throughout Livonia
The professionals at Telesis Electronics are masters at bringing the full theater experience: big, sharp, vibrant video coupled with deep, immersive surround audio - to basements or Rec rooms like yours.
While these projects can recreate all of the aspects of your favorite cinema (except for the people talking in the next row) like dimmable lighting, tiered seating, and an acoustically treated room - creating a Home Theater does not have to break the bank either. Let Telesis Electronics discuss with you all of the possibilities that exist within your budget, and begin the journey that will allow you to escape every night, without even leaving home!
Home Audio and Video Solutions For Livonia Homeowners

The best time to think about your new home audio video solutions is well in advance of walking through the front door for the first time. Telesis will work with you and your architect to design the technology into your home before the first shovel of dirt is moved. If your home is already complete, don't worry. Telesis can retrofit homes with audio and video as well.
Audio
Distributed audio systems from Telesis Electronics fill every room of your home with beautiful sound - from Mozart on streaming from your iPhone into the Study, Taylor Swift on the tablet into the daughter's room, or the big game on the Patio - all at the same time! Coming forth from discretely placed speakers that blend into your environment, these rich sounds envelop you and add an additional level of enjoyment to tasks performed within these spaces - even the Laundry Room!
Video
In addition to providing crystal clear reception, expanded audio, and more channels, digital television allows High Definition (HD) signals to be displayed at resolutions that makes content come alive. Once you experience HD, regular TV just doesn't cut it anymore.
---
---
See What Others Are Saying About Our Home Theater:
There are only a small handful of contractors out there that we would recommend without hesitation to anyone regardless of budget, knowledge or project size - Telesis is one of those without question. While most contractors will sell you the moon if they could, it is comforting to have reliable experts who like few others, we can trust to hear us and get the job done in the best way, with a dependable result and within our original budget.
- Jorge and Carol Zuniga
---
"Telesis Electronics is always a pleasure to work with on our new constructions. They are very professional and work well with our customers. I would recommend Telesis to anyone in need of a great low voltage contractor."
- Amy Crotty
President - DreamWork Builders
---
If you've always wanted a home theater or professional audio & video system in your home, contact us at Telesis Electronics! Contact us ASAP for your FREE consultation! See why we're the #1 name for Home Theater throughout the Livonia area, and how we can transform your basement or rec-room into a brand new home theater!