Quality Commercial Surveillance Provider Near Northville MI
Providing Commercial Surveillance In Northville Since 1985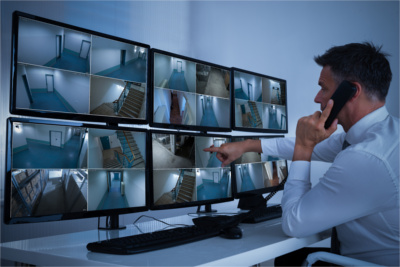 Telesis Electronics is an expert in communications systems, specializing with the concept of total home and commercial electronics. What this means for you as a Telesis customer, is that you are in the hands of a company that not only understands the intricacies of today's commercial and consumer electronics industries, but also the environments within which this technology is being placed - your home or office. We have acquired this knowledge through many years of one-on-one interaction with home buyers, consultants and architects, builders and building trade workers, and equipment manufacturers.
We understand the specific needs that each of these groups have, and how they are dependant on one another to produce the results that you envision. We provide the glue to make electronics systems "stick" together in an intuitive fashion to create your unique Digital Home.
Telesis Total Home and Commercial Electronics, Inc became a reality in 1994 to better identify with the core business and create an opportunity for the company to expand into other areas of home electronics integration. Today, the company is located in South Lyon, Michigan, as it has been since the beginning. The original spirit of those early days can still be seen in each employee as they tackle the new challenges of the digital era with the same dedication to detail and concern for the customer as always.
---
Burglar Alarms & Home Security Systems in Northville
Of all of the advantages that technology solutions from Telesis Electronics can provide, none is more important than the safety of your family and your belongings. That is why no home should be without the added security features that a monitored alarm system from Telesis can provide. For the lowest monthly service fee in the industry, Telesis offers 24/7/365 peace of mind.
A variety of sensing devices can be installed throughout your home that communicate with a base to notify the central station of alarms. First responders are dispatched immediately. Although you cannot put a price on safety, when the security solution is provided by Telesis Electronics, it's nice to see that the price is reasonable!
Nothing gives peace of mind like a sense of security. Ultimately, if we all could have complete emotional, financial, spiritual, occupational and physical security - we would achieve bliss. While leaving it to others for the first four, Telesis Electronics can provide you with physical security solutions that will leave you feeling warm and fuzzy.
Commercial Closed Circuit Television (CCTV) Surveillance Systems
Closed Circuit Television solutions from Telesis Electronics can provide security cameras throughout your home that integrate into your whole-house video distribution system. Now, while watching your favorite movie, you can bring up the PIP window on your TV to see the pizza delivery at your front door. Or, peek in on the baby's room while still snuggled in your bed! The practical and convenient uses of a home CCTV system go far beyond simple exterior perimeter monitoring to make it a necessary element in your overall home technology plan. Security systems from Telesis Electronics can allow amazing, live interactions with your home from anywhere in the world.
Take this story for example:
A business executive that was traveling abroad had scheduled an appointment in his home for contractors to do some work. Upon the contractors arrival at his home, he was notified on his PDA by the home. He then deactivated the alarm, opened the garage door, and monitored their movement through his home on his PDA. When they were done, he closed the garage, set the alarm and watched them drive away - all of this from Europe!
---
Reviews About Our Commercial Surveillance:
I strongly recommend the professional service, expertise and products provided by Telesis Electronics. In all of my business locations (Bakers of Milford, The South Lyon Hotel and Highland's Comeback Inn) as well as my personal residence, I have used Telesis Electronics for the audio/visual systems and burgular alarm monitoring. The initial consultation, installation and instruction of operation were all done in a professional and accomodating manner. Quality sound systems are important and I would use only the best . . . Telesis Electronics!
- Chris Baker
Resturant Owner
---
"Telesis Electronics is always a pleasure to work with on our new constructions. They are very professional and work well with our customers. I would recommend Telesis to anyone in need of a great low voltage contractor."
- Amy Crotty
President - DreamWork Builders
---
Contact Telesis Electronics if you're looking for the leading provider of commercial surveillance throughout Northville! We can help your home or business remain secure, and ensure that you're always in the know with top-of-the-line security equipment. Contact us to get a FREE consultation and get started!